If a person is consistently suffering from gut problems without any underlying disease, they need to reform their diet. You've probably heard of fiber as an essential meal plan component. Dietary fiber, also known as roughage, includes the parts of plant foods that cannot be digested. Hence, they add bulk to your waste and make its passage through the digestive tract easy! Fibers are mainly found in fruits, vegetables, whole grains, and legumes. Selecting tasty food items abundant in fiber is not a difficult job.
Fibrous food benefits are not limited to relieving gut problems but also assist in weight loss and lowering the risk of severe health issues. According to the current recommendation, an adult should eat 30 grams of fiber daily. So, make sure you also choose high-fiber options for meals and snacks. Some high-fiber foods are: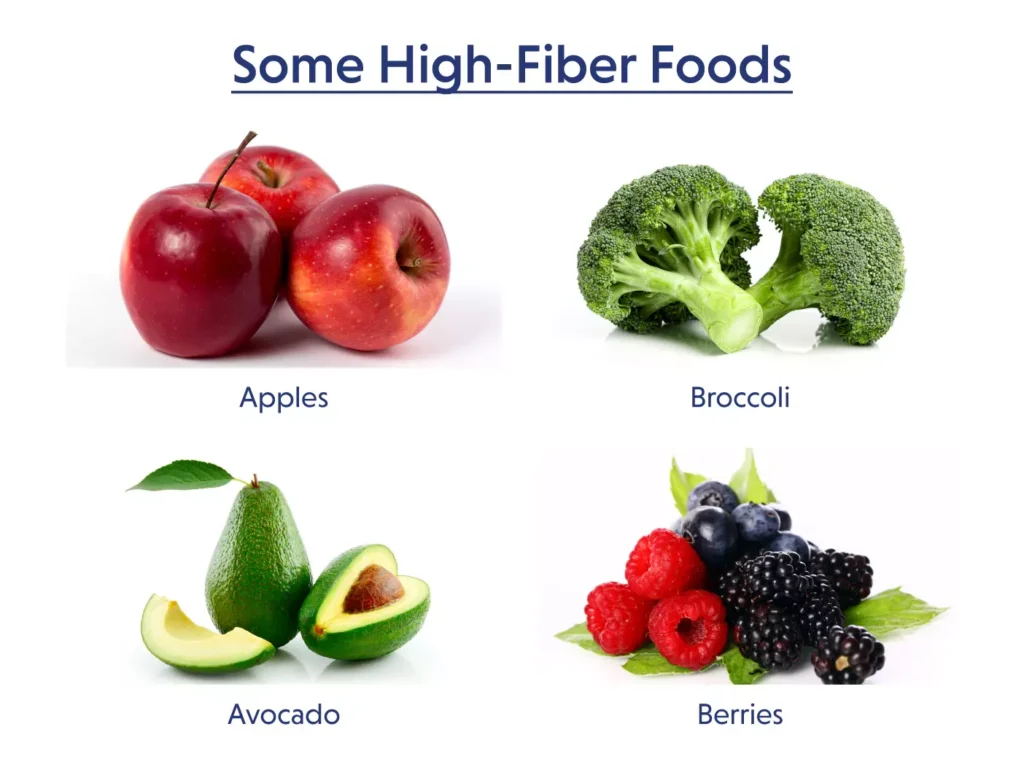 Beans
Broccoli
Avocado
Berries
Apples
Dried fruits
Popcorn
Potatoes
Legumes
Nuts and seeds
Whole grain foods
It is interesting to know that fibers are classified into two main categories.
SOLUBLE FIBER
This type of fiber is soluble in water and makes a gel-like material. It is commonly present in oats, peas, beans, apples, citrus fruits, carrots, and barley. As per scientific studies, they are beneficial in lowering cholesterol and glucose levels.
INSOLUBLE FIBER
Whole wheat foods, nuts, and vegetables such as cauliflower, beans, and potatoes are good sources of insoluble fibers. This type of fiber remains intact throughout the digestive system and promotes the movement of material out of the body. Therefore, these are beneficial to people struggling with constipation or irregular stools.
FIBROUS FOODS BENEFITS
Although fiber may not be at the top of your list to be worried about, this component, often missing from our diet, has a lot to be praised for.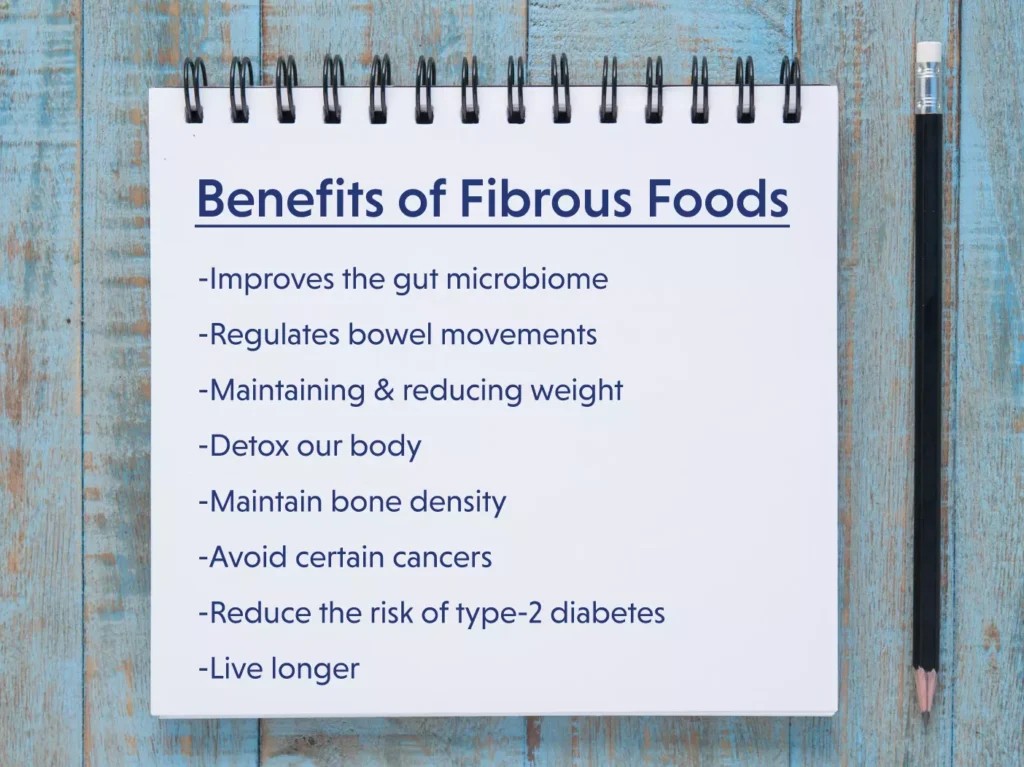 IMPROVE THE GUT MICROBIOME
The gut microbiome is the collection of millions of good bacteria living in our gut and aiding the process of digestion. Therefore, feeding the gut bacteria with fiber and helping them flourish will improve gut health. In addition to subsiding gastrointestinal problems, systemic inflammation associated with chronic health problems can also be reduced.
REGULATE BOWEL MOVEMENTS
Constipation is one of the common complaints today due to our poor eating habits. Fiber is a highly beneficial component to relieve you from this problem. The non-absorbed fiber makes your poop softer and bulkier. This will speed up its passage from your body. Psyllium fiber beats out other fibers in relieving difficult, infrequent, and incomplete bowel movements. Drinking plenty of water along with a high-fiber diet will accelerate the movement of waste out of the anus.
MAINTAINING AND REDUCING WEIGHT
Fiber-rich foods fill you up faster and for longer hours. You do not feel the urge to eat at short intervals and thus can reduce your calorie intake. Researchers have also shown that individuals who consume more fiber tend to be leaner. However, including at least 90 minutes of physical activity per week will give you faster results.
DETOX OUR BODY
Elimination of toxins from our gastrointestinal tract does not always need trendy juices. Incorporating high-fiber foods into the diet will be a natural detox. Soluble fiber soaks up harmful compounds, such as unhealthy fats, before the body absorbs them. Insoluble fiber makes bowel movement quicker and limits the time that chemicals like pesticides and BPA stay in your system.
MAINTAIN BONE DENSITY
Soluble fibers, also known as prebiotics, have been shown to increase the bioavailability of minerals like calcium present in your food. This will therefore help maintain bone density and keep your bones strong.
REDUCE THE RISK OF TYPE-2 DIABETES AND HEART DISEASES
The combination of soluble and insoluble fiber is suggested to be greater prevention of type-2 diabetes, cardiovascular diseases, and stroke. Some favorable effects fiber are responsible for are: creating a healthier gut microbiome, lowering inflammation, and soaking up excess cholesterol and blood glucose. The fiber in the form of beta-glucan and psyllium has shown significant benefits in disease prevention. Beta-glucan is mostly found in barley and oats other than psyllium which comes from the husk of psyllium seeds.
AVOID CERTAIN CANCERS
Fibrous food's benefits are extended to lowering the risk of cancers also. We must consume foods with higher fiber content to avoid the onset and spread of cancer cells, especially colorectal and breast cancer.
LIVE LONGER
As for now, we all are aware of the fact that fibrous foods prevent us from some severe diseases and cancers. Hence, one's chance of dying from these diseases is reduced when we consume them, leading to a longer life span.
HOW TO ENJOY FIBROUS FOODS BENEFITS IN YOUR LIFE
Add a fruit or vegetable to every meal.
You can meet your daily fiber requirement with an average of three to five grams of fiber with each meal or snack. Therefore, make it a habit of including a piece of fruit or vegetable in each meal.
Go for variety in colors when it comes to choosing fruits and vegetables. For example, fried chips and sugar-coated biscuits can be replaced with healthy options like oats biscuits, banana chips, or popcorn.
Opt for beans and legumes
Plant-based proteins like legumes are rich in fiber and protein, unlike meats which contain very little fiber content. So, incorporate beans and legumes into your salads, wraps, omelets, quesadillas, or casseroles.
Add seeds and nuts as toppings.
This crunchy and salty add-on will enhance the fiber content and taste of your breakfast or lunch bowls. Use them as toppings for your yogurt, oatmeals, stir fry meals, pancakes and smoothies.
Prefer whole grains
Substituting your processed grains with whole grains will enhance the fiber content of your food as they retain the fiber-rich bran. Go for whole-grain bread, whole-grain pasta, oatmeal, quinoa, and whole-grain cereals.
Drink plenty of water
Drink at least eight glasses of water daily, especially when you are on a high-fiber diet. Fiber pulls water into the intestines and so if you are not hydrated enough, it will cause choking and can even worsen existing constipation.
CONCLUSION
One can enjoy all fibrous foods benefits when they are mindful of their eating habits. We will include almost all types of fibers in our everyday meals when following a well-balanced diet plan.
Download the JOYSCORE APP to experience a healthy and joyful life.
Download on the Appstore
Get it on Google Play