While occasional bloating, gas, and diarrhea are normal, improving our gut health can reduce these negative symptoms. However, for many of you, it is important to understand "what is gut"? The gut is the digestive tract which plays a crucial role in
digestion,
breaking down the food we eat
absorbing the parts we need for digestion
disposing of waste
Another role of the gut is that it is home to a host of friendly bacteria, which further aid in digestion. A healthy gut means that the beneficial bacteria mast the number of harmful bacteria. This balance of bacteria in the gut leads to many health benefits, such as:
reducing inflammation
lowering the chance of obesity
improving mental health
lowering the risk of heart disease and diabetes
There are several factors impacting one's gut health, such as:
family genes
environment
medication use
diet
mental health
SYMPTOMS ASSOCIATED WITH BAD GUT HEALTH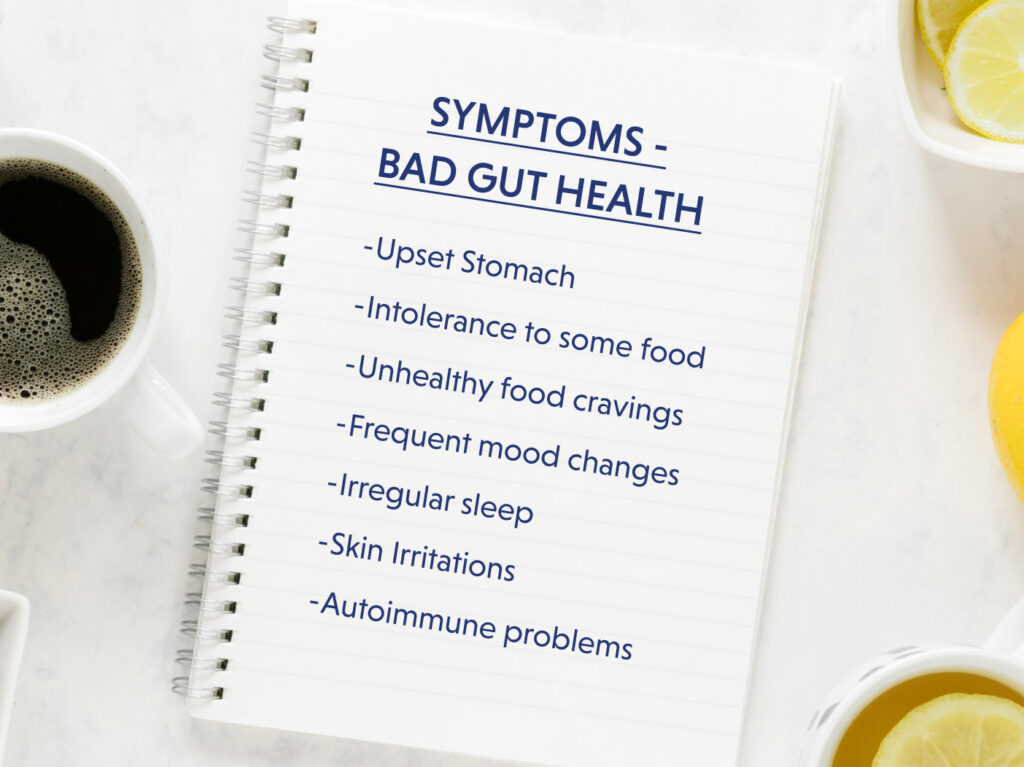 UPSET STOMACH
Frequent discomfort, gas, bloating, constipation, diarrhea, and heartburn are all related to an unhealthy gut. There is difficulty in processing food and eliminating waste. Such symptoms may also occur due to some underlying diseases such as gastrointestinal disease, irritable bowel syndrome, and acid reflux. Therefore, it is necessary to differentiate between the two.
INTOLERANCE TO SOME FOODS
A person with food intolerance has difficulty digesting certain food items. However, food intolerances are different from food allergies. They are most common in people suffering from digestive disorders. People also tend to experience discomfort soon after eating trigger foods. The symptoms include bloating, excessive gas, stomach pain, diarrhea, and headaches.
UNHEALTHY FOOD CRAVINGS
An unhealthy gut usually triggers sugar cravings that will show in the form of sweets, bread, fruits or dairy. In turn, this excessive sugar consumption will contribute to an overgrowth of bad bacteria in the gut. This contributes to an inflammatory environment in the body. One needs to curb these cravings by manipulating gut microbes and by adopting new ways of living.
UNINTENTIONAL WEIGHT GAIN OR LOSS
Alteration of gut bacteria does not directly cause you to lose or gain weight. It is the effect of the activities rippling through your body that can be held responsible for weight changes. These series of processes determine how much energy your body absorbs and how hungry or full you feel. Hence, keeping a check on your gut bacteria will keep your weight maintained.
FREQUENT MOOD CHANGES
It is important to be aware of the gut-brain connection too. This is a connection between our brain and gut, which helps in sending signals in both directions. Therefore, a person can suffer from anxiety or a bad mood due to digestive disorders. For example, an individual with Crohn's disease is often tied to symptoms of depression and anxiety.
IRREGULAR SLEEP
Sleep problems are again associated with the gut-brain connection. When there is a disruption of the composition of the gut bacteria genome is disrupted, sleep problems such as apnea and insomnia arise. However, introducing probiotic-packed foods into the diet can help improve our sleep cycle.
SKIN IRRITATIONS
An unhealthy gut can lead to skin problems like breakouts of spots, dry skin, inflammation, psoriasis, atopic dermatitis, and rosacea. One needs to make lifestyle and dietary changes to improve good bacteria and skin condition levels.
AUTOIMMUNE PROBLEMS
Autoimmune is a condition in which the immune system mistakenly attacks the body's tissues. However, gut microbes are responsible for controlling the body's immune system. But, in cases of an unhealthy gut, the lining of the intestine containing gut microbes is breached. This leads to the entering of gut microbe into the bloodstream and nearby organs which can cause disease. 
FACTORS IMPROVING GUT HEALTH
When it comes to improving gut health, remember the following:
GUT ENHANCING FIBER
Dietary fiber or prebiotics must be part of our daily diet as they help our good gut bacteria thrive. Prebiotic fibers are the indigestible carbohydrates found in many plant-based foods. These fibers are fermented in the gut and produce a fatty acid, butyrate, that maintains intestinal health.
The undigested fiber also helps add bulk to our waste and makes our stool heavy. Therefore, it assists in the easy passage of waste out of the body, preventing the onset of digestive problems like constipation. Gut-healthy foods that contain high amounts of fiber are:
Asparagus
Leeks
Onions
Garlic
Wheat and oat bran
Barley
Rye and buckwheat cereal
Legumes
Nuts, seeds and their butter
PROBIOTIC PACKED FOODS
Probiotics, in combination with digestive enzymes, help improve gut health. Probiotics are the tiny good bacteria that our body actually wants. In our gut, they not only support digestion but also improve nutrient absorption.
Probiotics occur naturally in fermented foods and cultured milk, so there is no need to rely on probiotic supplements. These are considered safe for our system and help with many digestive issues. Some such problems are colic, constipation, Crohn's disease, Inflammatory Bowel Disease, Irritable Bowel Syndrome, and so on. Examples of probiotic-packed foods are:
Sauerkraut
Kimchi
Kefir
Kombucha
Greek yogurt
However, one must take some precautions when starting to take probiotics.
Slowly increase the daily doses keeping in check the response of your body.
Take probiotics at specific times in regard to your meals.
Aim for natural sources or probiotic-packed foods over supplements.
CONSUME LESS SUGAR
Sugar is known to feed the bad bacteria in our gut leading to the overgrowth of these microorganisms. Therefore, when the range of harmful bacteria exceeds the number of beneficial bacteria, digestive problems occur.
PREFER HOMEMADE FOODS
When you cook at home, you can keep a check on the number of nutrients as well as harmful ingredients entering your digestive tract. So, instead of consuming pre-packed food, opt to cook and build a healthy gut.
LIMIT THE USE OF ANTIBIOTICS
We have always been told to avoid antibiotics if not necessary. This is because other than destroying the bad bacteria, it can cause problems like yeast infections and nutrient deficiencies.
EXERCISE REGULARLY
Being physically active can help reduce inflammation and improve gut functioning. Exercise can ease food movement through the digestive tract and, therefore, stop problems like constipation. Make sure to have a workout plan regardless of your age and your stamina.
REDUCE STRESS
Stress is majorly responsible for gut dysbiosis, leaky gut, and inflammation. Feeling low can also lower stomach acidity, which makes proper food digestion difficult. This will further cause problems like bloating, acid reflux, nausea, diarrhea, and constipation.
GET ENOUGH SLEEP
During sleep, our body restores itself by regulating cell reproduction and regeneration. A healthy gut is maintained by restoring healthy levels of cortisol and serotonin levels. Practice sleep meditation and other relaxation techniques to follow a normal sleep pattern.
PLENTY OF FLUIDS
Fluids are very essential when it comes to digestive processes. We need water for the breakdown of the food we eat, for the absorption of nutrients, and for easy passage of stools. On average, men require 13 cups and women 9 cups of water on a daily basis. Other than plain water, some great fluids to drink are ginger tea, lemongrass tea, fennel tea, and coffee to improve your digestion.
CONCLUSION
A healthy level of good gut bacteria is very essential to maintain good overall health. Therefore, one must eat a lot of gut-enhancing fiber and probiotic-packed foods, while factoring in other healthy lifestyle habits to avoid numerous chronic diseases.
Download the JOYSCORE APP and be the master of a healthy and joyful life
Download on the Appstore
Get it on Google Play