Before we explain how sleep can improve gut microbiome diversity, one needs to know about the gut-brain axis and its significance. The gut-brain axis is the bidirectional communication between the central and enteric nervous systems. This connection links the emotional and cognitive centres of the brain with intestinal functions. Studies have shown that nearly 40% of patients suffering with digestive disorders also suffer from psychiatric disorders.
Growing evidence suggests the influence of the gut microbiome on sleep quality and vice versa. The total gut microbiome diversity is positively correlated with increased sleep efficiency and total sleep time. Sleep is a physiological state that is linked to the immune system and is associated with several diseases, including cancer, type-2 diabetes and Alzheimer's disease. This proves the critical interface between sleep physiology and gut microbiome diversity, where microbiome diversity can also influence sleep in the long run.
However, this pattern can also explain the reduction in sleep quality in older adults. It is assumed that the changes in gut microbiome diversity of older adults contribute to poor sleep quality.
HOW LACK OF SLEEP CONSISTENCY AFFECTS GUT MICROBIOME DIVERSITY
INCREASES STRESS
Not getting enough sleep imbalances the hormones, especially the stress hormone like cortisol. Increased stress, in turn, increases intestinal permeability, also known as leaky gut. Hence, small food particles, toxins and bacteria can pass through the intestinal wall and enter the bloodstream. This can lead to a host of issues like inflammation, bloating, stomach pains, food sensitivities and changes of the gut microbiome.
DIETARY CHANGES
When you are sleep-deprived, certain hunger-controlling hormones are imbalanced. This is why you find people eating post-dinner in the middle of the night. Not to mention the fact that when you are tired, you turn to unhealthy food choices for quick energy boosts.
LACK OF MELATONIN, A SLEEP HORMONE
Our body makes more of this hormone in the nighttime. Thus, you tend to fall into a deep sleep to obtain it and feel refreshed the next morning. Melatonin also helps regulate gastrointestinal mobility. Therefore, it naturally increases your melatonin levels to get a better night's sleep. Some easy steps to regulate the production of this hormone are:
Use dim lights at night
Reduce screen time before falling asleep
Limit coffee and tea at night
Practice relaxation techniques at night
NEGATIVE IMPACT ON DIGESTIVE HEALTH
As per health physicians, you should not eat within three hours of going to bed. Eating too close to bedtime burdens your digestive system and doesn't let you relax throughout the night.
WAYS TO OPTIMIZE YOUR SLEEP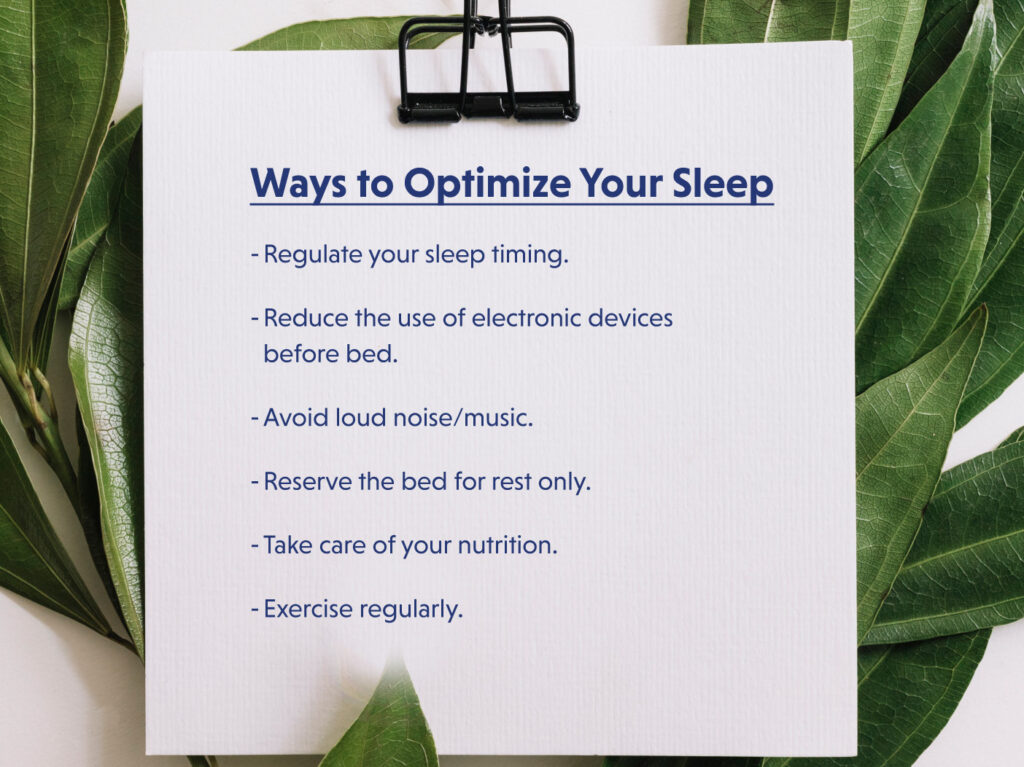 Today, the discipline of sleep is consistently disrupted amongst the tactical population. Therefore, with this assessment in mind, we need to focus on the basis of improving your sleep quality. This will help you get more out of your sleep time and mitigate the effects of lack of sleep.
IMPROVE YOUR HABITS
Having a regular bedtime and waking up time helps regulate your circadian rhythm. This will help you fall into a deeper sleep and feel more relaxed the next morning.
Keep your bedroom well-ventilated at night. A simple fix is opening your window a fist's width to allow for cool air circulation in the room.
AVOID TOO MUCH LIGHT AT NIGHT
Don't allow too much light exposure in your bedroom during night time. Try sleeping in a dim light or dark room. Too much light can cause repeated awakenings, interrupted sleep cycle and reduced deep sleep. We must also avoid any form of artificial light, whether it is coming from a TV, electronics or an intrusive streetlight.
Therefore, turn off all computers and phones at least one hour before your habitual bedtime. These devices decrease the production of the sleep hormone melatonin.
AVOID ANNOYING NOISES
Turn off your cell phones and wear earplugs if you are in a particularly noisy environment. Even if you are someone who likes to sleep with relaxing sounds in the background, we recommend only listening to instrumental music.
RESERVE THE BED FOR REST ONLY
Make sure to set your working desk and armchair in a separate room. Your mattress and a soft pillow are meant only for sleep. This is because associating your bed with demanding and stressful work could take your mind back to those situations which can disturb your sleep.
TAKE CARE OF YOUR NUTRITION
Raising Vitamin D levels can reduce insomnia and improve sleep. This is because the part of the brain responsible for sleep has a large concentration of Vitamin D3 receptors.
However, avoiding caffeine before sleep will also help, as it is a powerful performance enhancer. Caffeine consumption can increase the stress hormone cortisol, reducing the ability to sleep.
EXERCISE
The ideal time for physical training is between 3 and 6 pm. The body temperature and protein synthesis is elevated around this time. However, training in the evening suppresses melatonin and elevates cortisol, thus, disturbing your sleep. Early morning exercise is better than late evening performance.
Too much intense exercise can lead to circadian imbalances when paired with a stressful life or poor nutrition. Thus, promote recovery by having your stress in check.
LIMIT NAPS DURING DAYTIME
Limit your naps to no more than one hour, which will interfere with your nighttime sleep.
MANAGE STRESS
Try to resolve your worries before bedtime. Wash out any stressful thoughts with relaxation techniques. Start with some basic stress management methods like meditation to ease anxiety. Bedtime reading is also a great thing to do to have a good night's sleep.
CONCLUSION
Nearly everyone has an occasional sleepless nights, but experiencing them regularly needs immediate attention. Therefore, identifying and treating any underlying causes can help you sleep better. Never hesitate to contact a health professional if things are not getting better.
Download the JOYSCORE APP for happy and healthy lifestyle tips.
Download on the Appstore
Get it on Google Play