Exercise – who has the time, right? As badly as we all want to be rippling sex gods and goddesses (or lean, toned sex gods and goddesses – whatever your preference), the world conspires to stuff our every waking minute full of other responsibilities: go to that marketing meeting, take the kids to their clarinet lessons, swing by the dry cleaner's to pick up those close you forgot about. Oh, and don't forget to get some rest – there's a conference call with the London office at 6AM tomorrow!
Not to mention that, on top of all the madness, you've got to find a little quality time for the family. Well, not "got to" — you want to. After all, you love them. They're the best part of your day, and they make all the other things you do feel worthwhile.
By now, you're probably thinking, "You see what I put up with? There's no time to get in shape." But the determined among us have found a way! Not only can you carve out that precious time with the youngsters, you can get fit while doing it. Here's how:
Take It To The Streets
Whether you're hiking in the woods, doing deadlifts in the weight room, or swimming laps at the community center, any fitness is better than none. So why not do something the kids will love?
You could take a walk after dinner – even bring the family pooch. You could design a scavenger hunt that has everyone running around the neighborhood on a Saturday afternoon. Even a game of tag in the yard could be enough to get everyone's heart rate up. This type of fitness might even be better than what you'd had in mind; a thirty minute game of tag can burn around 200 calories – 50 calories more than a yoga class of the same length.
Play Ball
Back in the day (before we became boring adults), many of us lived and died by sports. Kickball matches in P.E. were serious as a heart attack. The championship game was the stuff of legend. And of course, all that playing meant a healthy, fit physique. Who wouldn't want that back?
Is your son or daughter playing a sport? If so, a little practice can be the perfect way to bond with them while getting in shape. A game of catch or one-on-one will get you moving and your heart pumping, and your kids will love to see you try your hand at the sport they love. You can give them pointers to up their game, but beware: they may end up outshining you!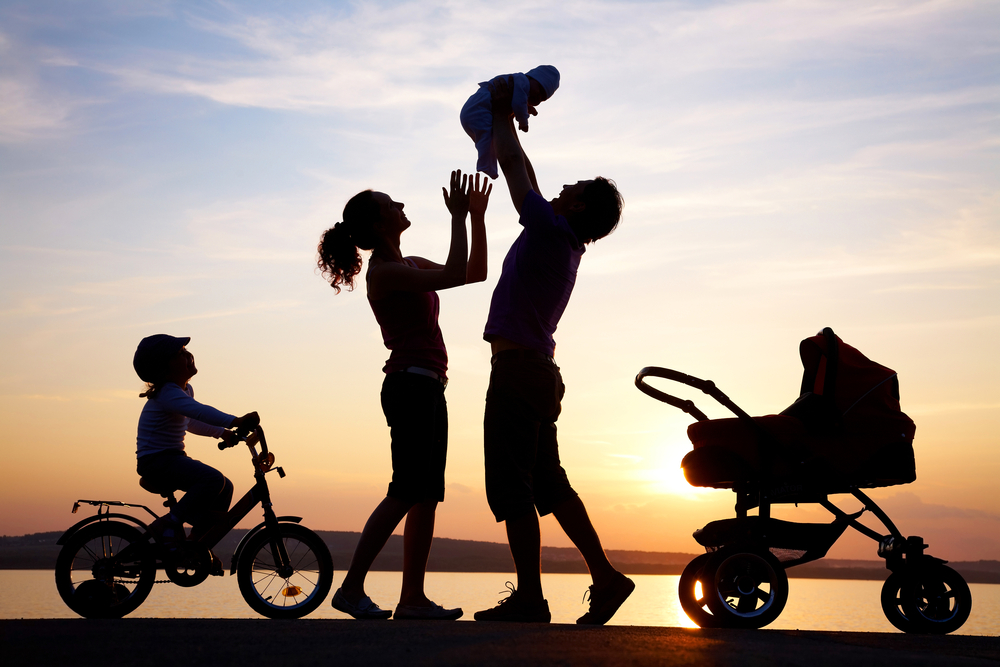 The Playtime of The Past
Recently, I spent some time with my 5-year-old niece and was stunned to discover that her favorite thing to do was watch other kids play with My Little Pony dolls on YouTube. Not even play with them herself! This type of behavior is on the rise, and it is incredibly dangerous. Not only is increased usage among kids bad for their health, it kills their creativity.
Don't let the iPads win! Get some jump ropes and a big Slip n' Slide, and show those kids what fun looked like when you were young. Not only will they get a little movement, they'll have an amazing time. After all, you did, right?
Keep it Clean
Sometimes, there's simply too much on our plates to carve out that quality time. But even on our busiest days, there are ways to sneak in a workout. One way is to make a game of cleaning up the house.
Other parents (yes, probably even yours) have been using this old trick for ages. "Make believe [your son is] one of the Rescue Heroes, and have him save his teddy bears from the slimy pit of the floor by putting them safely in his toy chest," suggests registered dietitian Juliet Zuercher. Your kids will be scrambling to tidy up, and if you play along you will be, too! Soon the teddy bears will be safe and you'll be a little closer to that fitness goal.
When it comes to balancing work, family, and fitness, a little ingenuity goes a long way. You may not escape your daily to-do list, but you will make memories, bond with the people you love, and take the steps you need to get the body you want.